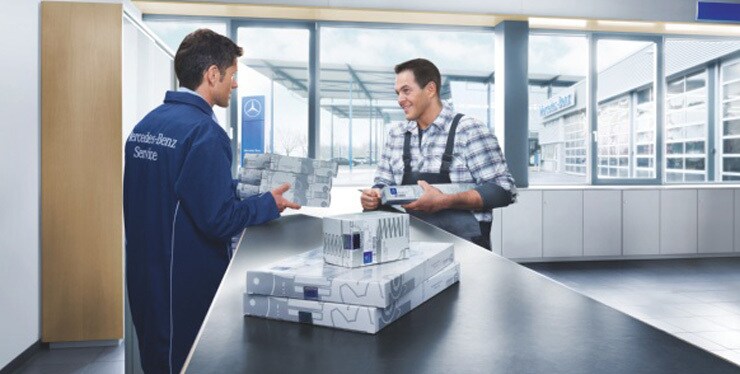 Why Genuine Parts?
When it comes to safety and performance, Mercedes-Benz constantly sets new standards. Over a century of experience in vehicle and parts manufacturing enables us to continually deliver outstanding performance of your vehicle.
Mercedes-Benz GenuineParts are developed to deliver many key benefits:
Designed to fit your vehicle perfectly.
Precisely built to manufacturer's specifications.
Comprehensively quality tested to ensure reliability, durability and longevity.
Backed by a comprehensive warranty.
On the road, every decision counts. Let us provide you with the most uncompromising reliability, performance, value, and safety your Mercedes-Benz deserves. Accept no substitutes.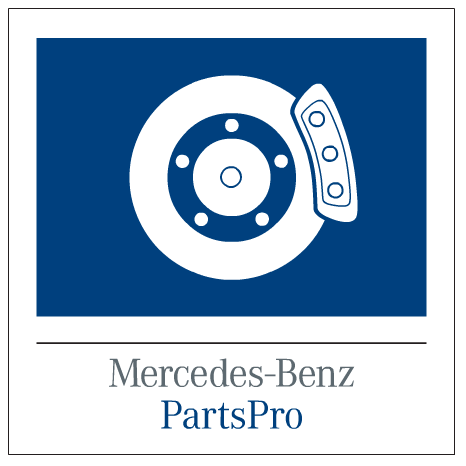 As Fraser Valley's only certified Mercedes-Benz PartsPro dealership, we provide an outstanding range of services for your business. Delivering complete reliability across the board, we offer expert assistance in parts identification, and provide increased parts availability. Learn more
Remanufactured Genuine Parts

For almost 50 years, our Remanufacturing Centre has been rebuilding critical automotive components. From transmissions and engine blocks to differentials, transfer cases, and alternators, our Centre provides an invaluable service. We guarantee that only quality Mercedes-Benz parts are used and that repairs are carried out to the highest standard. Not to mention, you have the added comfort of knowing that all work was carried out with the Mercedes-Benz level of quality and built to stringent factory standards.
When rebuilding critical automotive components, each unit is completely disassembled, cleaned, and inspected. Rest assured that in all cases, components modified are replaced using only Mercedes-Benz GenuineParts of the latest technological standard, unlike the aftermarket remanufactured process which may only replace visibly worn parts.
Mercedes-Benz Remanufactured GenuineParts available at your local Mercedes-Benz dealer:
The Convenient Benefits:
Clear price benefit: Top-quality, reliable parts at a fraction of the cost of new parts.
Reduced waiting times: With a simple replacement there is no long troubleshooting process and there are no possible further hidden defects.
Unparalleled selection and availability: Mercedes-Benz Retail Centres offer the most comprehensive assortment of reconditioned parts available for Mercedes-Benz vehicles.
Modern technology: Mercedes-Benz Reconditioned Genuine Parts and assemblies are always in step with the latest state of the art technology and current with all of the latest modifications and specifications.
Genuine quality: Mercedes-Benz Reconditioned Genuine Parts and assemblies have the same quality as new Mercedes-Benz Genuine Parts. Quality and function tests are performed on all reconditioned parts.
Identical warranty services: For Mercedes-Benz Reconditioned Genuine Parts and assemblies, the warranty - as for new Mercedes-Benz Genuine Parts - is taken back by your Mercedes-Benz dealership.
Owned and operated by Mercedes-Benz Canada Inc.: Our Centre is governed by strict guidelines when rebuilding any component and we follow the specifications as supplied to us from Mercedes-Benz Germany.
Resale Value: Potentially increased resale value for your Mercedes-Benz vehicle.
Reduced environmental impact: Remanufactured parts re-use materials and require less energy to produce than new parts.
Mercedes-Benz Remanufactured GenuineParts set the standard for quality, reliability and value - a standard that non-original aftermarket parts simply cannot match.
Genuine Wheels and Approved Tires
Wheel development
Mercedes-Benz uses an extensive development and testing program to ensure the quality of its various wheels. We tailor the development and testing phase to the actual stress profile of light-alloy wheels under real operating conditions - ensuring that our light-alloy wheels are among the most safest, reliable and durable products available in the car market today.
Design
Wheels play a key role in enhancing the overall design of our cars. Mercedes-Benz skillfully designed wheels harmoniously complement the bodywork and contribute to the overall design quality of our vehicles. Our standard and optional extra light-alloy wheels are designed by the specialists in the Mercedes-Benz Design Centre.
Quality
Mercedes-Benz and its subsidiary Mercedes-Benz Accessories GmbH offer the perfect wheels for every model. All wheels are optimally tailored to Mercedes-Benz vehicles and meet the same high safety standards. In addition, only the most reputed and best suppliers are selected to manufacture the light-alloy wheels worldwide, and production is subject to stringent Mercedes-Benzs.
View a selection of Light alloy-wheels available: